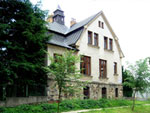 school portrait : Native language Czech

Name: Stredni skola obchodu a sluzeb Jihlava
Country: Czech-republic
City: 586 01 Jihlava
Street: Karoliny Světlé 2
Website: http://www.sous.ji.cz
Contact: x
email: sekretariat@ssosji.cz

Self-description: Yet not written.



A brief history of education of the watchmaker's branch in the Czech Republic


After World War II, Czechoslovakia was one of the few countries in the world to be able to produce their own mechanical wrist watches (the PRIM brand).
There was also a production of big clocks and alarm clocks.
In 1954, the school of watchmaker's branch was opened in Polná near Jihlava. In the mid sixties there were up to 80 pupils in the class.
There were society-wide changes in 1989, the watchmaker's cooperatives and enterprises were disintegrating and manufacture of clocks and watches in Bohemia gradually disappeared.
The watchmaker's branch is now taught at the only school in the Czech Republic - at the Secondary School of Business and Services in Jihlava. Even though our school is the only one in this country, the pupils' interest in this branch is still decreasing. We have noticed a greater interest with the middle-aged generation within the lifelong learning.
We prepare our school-leavers to get good basis for working in the brand-name watchmaker's services.
In 1994 we visited Switzerland for the first time, we went to see manufacturing plants of companies Eta, Omega, Rado and Tissot and an exhibition fair in Basel. Two times we visited a top company IWC in Schaffhausen and its watchmaker's apprentice school. We also looked for experiences in Glashűtte in Germany.
We are in regular contact with Czech services of well known watchmaker's brands (Breitling, Omega), we attend educational excursions of the companies to have the up to date information and our apprentices have the opportunity to undergo their practical training in the companies.
Our apprentices get their job in those companies after completing their apprenticeship at our school. Our former student Václav Loužil was awarded as the second best watchmaker in the global service network of Omega brand.
The Project of Competitiveness (CZ.1.07./1.1.36/01.0011) has been approved this year.
Within this project, we will get equipment for teaching, we will create educational presentations and printed materials, and we will organize several excursions and participate in international meetings of schools of watchmakers in Germany in 2013.

Vysocina Region - an establisher of our secondary school supports the good pupils with scholarships.